We offer the Best Deep Tissue Sports Massage Therapy in San Antonio
San Antonio's Deepest Massage
As the Barefoot massage source in San Antonio for Deep Tissue Sports Massage known to help treat and prevent sports injuries through massage and mobility, our bodywork sessions are great for relaxation, athletic injury treatment and for reducing chronic pain. Our professional Massage Therapists in Alamo Heights have been voted as the best massage in San Antonio for the past 5 years. We can cater your massage appointment and blend any of these advanced bodywork styles into every appointment! Take a minute to read about each massage technique, then book your appointment and our Sasquatch staff will create a massage blend unique to you!
Foot Massage:…We massage your feet with our feet…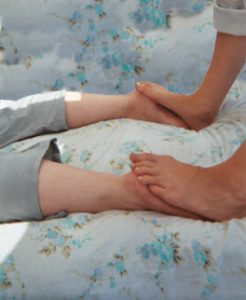 Just looking to get your feet rubbed? This is a blissful 30 minute foot massage similar to a Thai Foot Massage. We use our feet and hands to give your feet and lower legs the deepest, most luxurious foot massage you've ever felt! This is a good idea if you aren't ready for a full body deep tissue massage, but want to take a great nap and give your own feet a treat! Suitable during and after pregnancy, or for anyone with aching feet. 
Read more…
Internship Massages…
SAVE 20% when you get a massage with an Intern! Read more about our Interns and how you can get discounted services while they practice on you!
Please review our Office Policies.
Contact Information
Phone:(210) 560-1992
Email:Info@HeelingSole.com
Address: 1864 Nacogdoches, Alamo Heights, Texas 78209
In the Carousel Court … ME#2832
Hours(By Appointment Only):
Wednesdays 1:30PM – 7:00PM

Thursdays 9:30AM – 7:00PM