Get a Deep Tissue Massage today
$80 for 60 minutes | $120 for 90 minutes | $160 for 120 minutes
(Jeni Spring is $125/hour)
Buy a Gift card Online
Email the gift of massage instantly
…or schedule a date to send later!
Voted San Antonio's Best Massage 6 Years In A Row – and we don't even use our hands!
We are proud to say that Heeling Sole Barefoot Massage was Voted San Antonio's Favorite Massage Therapist in the San Antonio Current Magazine for 6 years in a row! 
Barefoot Massage explained by Jeni, live on KSAT!
Need a relaxing massage? Well, the good news is that chemically, deep down to the cells of your body, a sense of relaxation happens with every massage we do. During your massages, we do the hard work and focus on treating your soft tissue injuries, speed up your recovery time, resolve chronic pain, and create a structural change with enhanced proprioceptive awareness to your bod, and even when we have our heels dug down into your muscles with our whole body weight, you'll find yourself chillaxin'.
How is that possible?! Barefoot Massage is just that awesome. Massage Therapy is not a luxury, it's an investment into your own self-care, wellness, rehabilitation and injury prevention. We work with you on what can structurally, anatomically help get you out of pain now – that's what we will be focusing on during your sessions here. If you happen to relax enough to zone out and catch a power nap: more power to you!
Come get under our feet to make a change in your life today!
San Antonio's Best Deep Tissue Massage is here
We're ready and waiting to bodysurf you.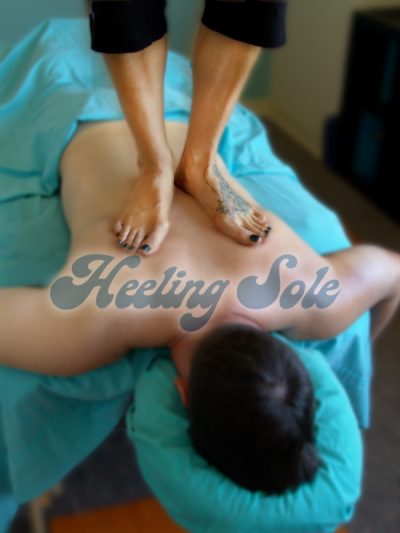 Keep reading to see why we are San Antonio's favorite massage
Or just trust that it's as awesome as we say it is, and Schedule Today!
Great experience! The only reason I would tell someone not to go would be if feet really bothers them. I had a lady named Ninja and she was so good to me!! She seemed to care more about taking care of me then the clock, which resulted in a great experience for me. I left there feeling amazing (the good pain from a productive message). I will be back!
Found this place by accident , and been going here for the last two years since.I love the experience every time. My body feels better after each session, wish I had more time and money to go more often.
Had my first Ashiatsu massage yesterday from Ninja H. She said she wasn't a real ninja, but I disagree. The massage had constant, even, firm pressure that really made a difference and felt great. This is the deep tissue massage you've been dreaming about. It was evident that Ninja loves what she does and really cares. I will be back! Thanks!
I've had two massages. First with Rose then with Erica. Both way exceeded
expectations! Heeling Sole really has something special. I'm sure everyone who books here will find their home for massage!
My first but certainly not my last visit. I went in for pain relief from sciatica and it did provide relief.
Jessica did my massage and was marvelous. The rest of the staff was friendly and engaging. Will be returning soon.
Lovely location – it's a beach escape in the middle of the city. Ashiatsu has helped with my chronic tension more than any other massage. The massage therapists are knowledgeable and professional. The yoga room is also very calming. One of my favorite places to practice.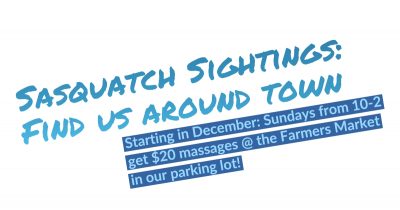 Licensed Massage Therapists:
Learn FasciAshi Barefoot Massage with Jeni Spring, LMT!
We offer monthly FasciAshi Ashiatsu Training, as well as other amazing
Barefoot Massage continuing education courses specifically for massage therapists.
We have been the hub for all Ashiatsu classes in Texas since 2008.
Over 900 LMT's have learned to massage with their feet from Jeni Spring.
     Are YOU the next one? This could be you!
HeelingSole
We run things pretty relaxed at Heeling Sole, but appointment punctuality is important for the scheduling of our day. If it is your first appointment with us, there will be a little bit of paperwork [...]