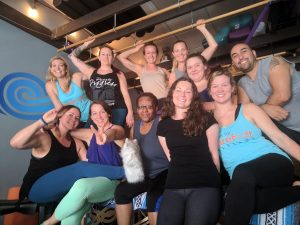 Heeling Sole has hosted Texas Ashiatsu training courses since 2008, and is now the hub of all things "Barefoot Massage" like never before!  As a regional campus for the nationally recognized advanced massage education company, 'The Center for Barefoot Massage', we offer a reliable and reputable space to learn all forms of barefoot massage, and a student clinic where the therapists can practice on the local community.
Take a vacation to San Antonio: Texas Ashiatsu Training can help you write it off!
San Antonio welcomes the Texas Massage Therapists from Austin, Ft Worth, Dallas, College Station, Houston, El Paso and Corpus Christi, as well as bodywork professionals from all over the nation, who travel to take their Ashiatsu training here with us! Jeni Spring and other guest FasciAshi instructors teach foot-focused massage courses such as FasciAshi, Fijian Massage, Rossiter System, Thai Bodywork – with more to come!
If you are a massage therapist traveling to San Antonio, or if you are a client in town just for us (hey – it has happened! We have been a purposely-planned pit-stop and destination massage for some Ashiatsu fanatics in the past!!) read about our favorite hotels and lodging ideas below.
Lodging:
The Drury Inn & Suites – Airport:  This hotel is about 2.5 miles away, found at the corner of Jones Maltsberger and 410. Your suite comes with free hot breakfast and dinner, drink tickets at their bar, airport pickup, free wifi, free long-distance phone calls, and microwave and mini-fridge in rooms for only $89.99 per night. They DO NOT provide a shuttle to/from class. Uber and Lyft are available intown if needed.
Crowne Plaza San Antonio Airport: This hotel is 1 mile away from Heeling Sole, and provides free shuttle rides to and from class (give them a 30 minutes heads up!) as well as rides to and from the airport. GREAT for those of you who fly in and don't want to rent a car. We have locked in a $84/night deal with them – ask for the 2 double beds and buddy-up with another classmate to save on travel expenses! Follow the link above to get the deal! <<They are undergoing some major remodeling and construction right now, FYI>>
Air BnB: Many of our Alumni have really enjoyed staying in affordable spare rooms or entire condo's while in Alamo Heights area of town for their training or internships at Heeling Sole. Many students have been very happy using Air BnB for affordable accommodations,
Coffee: (which is the 2nd most important thing besides a bed to crash on!)
Theory Coffee: they are our lifesource. You'll find this rad food truck on the corner of our road, Nacogdoches, and I-410 about a mile from our studio. The coffee is so good you'll find yourself licking the cup once you are done! He's usually open e-a-r-l-y in the wee hours of the morning until about 2pm on weekdays and Saturdays… unless he wants to go home early. So grab a cup!
Starbucks: it's right across the street and you can walk to it… but Theory is better 😉
Be a tourist:
Check out the Historic Pearl Brewery and Hotel Emma! TONS of great food and sightseeing!
Check out South Town – another local hangout where you'll find food trucks, art galleries, 1st Friday, and boozy icecream.
Walk the Riverwalk – because it's pretty much expected of you!
See the Alamo and bike through the entire Mission Trail.
Hike through underground caves! (We even have a cave 3 blocks from our studio!)
Send the family to 6 Flags, or Sea World, The San Antonio Zoo, the DOseum, the Witte Museum, iFly, or our Aquarium while you are in class!
Directions:
Google it! We are 10 minutes from the San Antonio airport, 15 minutes from Downtown San Antonio. This Ashiatsu training is an easy 60 mile drive from Austin, we are a 4 hour drive from Dallas/Ft Worth, 3 hours from Houston, and 2 hours from Corpus Christi. Find our address and map here!
If you are an LMT needed CE's, then the Center for Barefoot Massage and Heeling Sole has got you covered!
We can't wait to meet you and your feet in FasciAshi class!
If you are a local, share your fave spots around town in the comments below. We love promoting local businesses in the Alamo City!