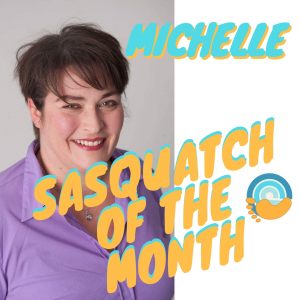 This month we are FEETuring our Yoga Therapist and office manager 'Squatch, Michelle Bowles!  You've seen her up at the front, and you've probably met her in one of our mobility workshops earlier this year… she's WAY over qualified to be standing behind our front desk, but she's been a big help over the past 2 years and we are lucky to have her as a Sasquatch!
Michelle has something to offer that is a perfect compliment to what the amazing LMT's at Heeling Sole do, which is a part of why she says she has enjoyed working with us since 2016.
If YOU have an area of chronic issue – like – if you circle the SAME STUFF every visit on our daily health intake forms – lets see if Michelle can find a way to tweak a movement pattern or teach you some self-release techniques, so the next visit your massage therapist can get at the issue from another angle and hopefully resolve that tissue issue. Then you can see Michelle to address other things as they come up.
---
She's not a massage therapist… but…..
Michelle is a C-IAYT, which means she is Certified by the International Association of Yoga Therapist, and has been since they first started the certification program in 2016. She has been a professional Yoga Therapist since 2013, and an Integrative Yoga Therapist and Registered Yoga Teacher since 2012. In the growing field of yoga therapy, training requirements keep increasing, and she keeps pushing her education and training further. She has been teaching yoga in some capacity since 2002.
How long have you practiced ashiatsu massage?
Never, ha! She has, however, been practicing yoga since 1982 or 1983, and teaching it since 2002!
What is your favorite muscle group to work on?
No one favorite group – Michelle says: " I like the detective work required to find the root of a person's issue through movement, breath, neurologic, fascial….. I love the interplay between all the systems and levels of the persons being."
What do you enjoy most about your role as a LMT?
"As a Yoga Therapist and Neuro Kinetic Therapist, most people don't know what to expect, and they often are out of other options by the time they see me. I love being able to help them find the tools that fit perfectly for them to find optimal wellness – whatever that may be for them. I like to help people find a way back into union with themselves."
What brought you to barefoot massage?
Well, again, she's not a barefoot massage therapist – but what brought her to Yoga Therapy? Here's what Michelle said to that: "I had a pretty traumatic childhood, which left me with several auto-immune disorders and daily physical and emotional pain for which western medicine could provide nothing but medications that had side effects almost as bad or worse than the original pain…." Throughout all that, she found yoga, and Yoga was her calling.
Michelle is a Scorpio, and a total Hufflepuff if she went to Hogwarts!