Stretch Therapy
Getting Better Together
Stretch Therapy is a proven muscle recovery approach for active adults, a suppliment to aid in your own flexibility and a safe way to prevent pain with no needles, no surgery, no stress. In your  one-on-one session, you will work with one of our professional stretch therapy trained Barefoot Massage Therapists for 60-120 minutes. Our staff will take your body through a series of active, passive and resisted stretches custom designed for your specific needs. We care about your comfort, and will communicate with you throughout your stretch.
In our innovative "Walk-in Walk-on" group sessions – no matter what your range of motion or fitness level is, we have a solution for you. Our group stretches aren't classes, but are short one-on-one sessions held in a community setting, where multiple other clients are being helped indvudually in the same room. These 15-30 minute sessions are great to drop in on a few times a week and will help to increase your flexibility and improve your range of motion – to keep up with and continue the deep stretch sequence created in your longer one-on-one sessions.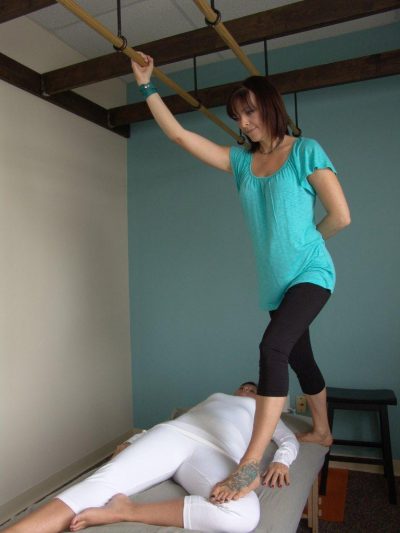 There are many benefits to stretching. Whether you're wanting to improve your athletic abilities, decrease joint pain, or just want a really great stretch.
Improve Sports Performance – Enhance your GAINS!

Increase Range of Motion, Stability, Mobility & Flexibility

Reduce Muscle & Joint Pain

Improve Focus and Decrease Stress
Believe in Each Other
Do you belive in Sasquatch?! Our Big-Footed Sasquatch staff is trained in a variety of protocols based in Thai Massage and Fascial Stretching. During a Stretch Therapy session, your Sasquatch will physically take your body through a series of static (holding), dynamic (stretch with motion) and PNF (push and release) stretches as well as utilizing stretching tools like yoga props and our Self-Myofascial Release Yoga Tune-Up balls. Don't worry about your level of flexibility! Each stretch can be customized to either increase to decrease the level of sensation without triggering a pain response in your body.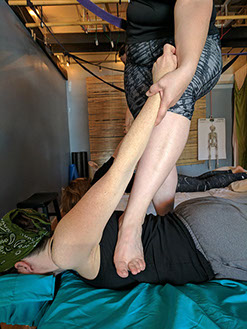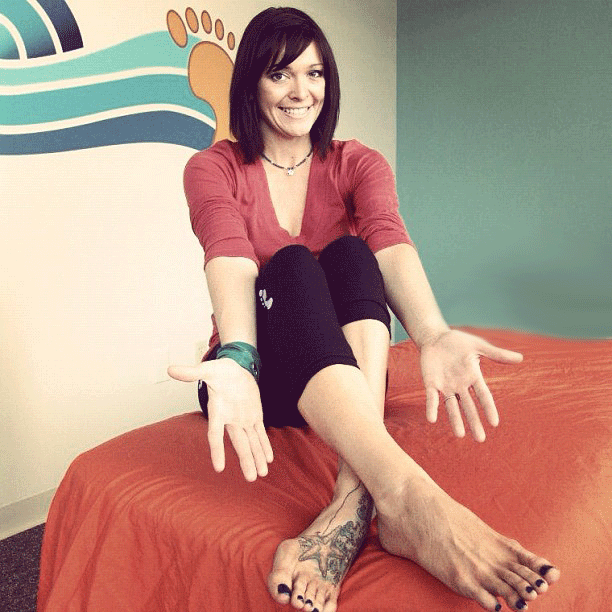 1-on-1 Support
Our one-on-one stretches help fix pain fast. Our motto of "We can HEEL that" applies to our stretching just as much as it does to our deep, myoafscial barefoot massage services.  Combining our Stretch Therapy program into a Barefoot Massage at Heeling Sole, or using it as a stand-alone treatment  can help to save our clients significant time and money over other treatment options.
We can help with full body stretches with our assisted stretching.
Dynamic stretching helps your muscles move thru your own awareness of range of motion. These stretches are based on functional movement, so it will help your nervous system sence where it is in space and offer perceptions of where new movement is possible. Motion is the lotion you need to improve your range of motion and coordination!
We can help you warm-up your muscles with Static Stretching! Warm-ups can be just as intense as your workout with this intense focus on your fascia. Get your ankles, hips, and knees ready for action as the long-held stretches impact not just the muscles, but the connective tissue that weaves between all things. Sustained stretches along with our sustained compression on any compensating structures will help keep your body in alignment and magnify the stuck spots to focus on.
Come try it today, and ask our stretchy Sasquatches if this is right for you!