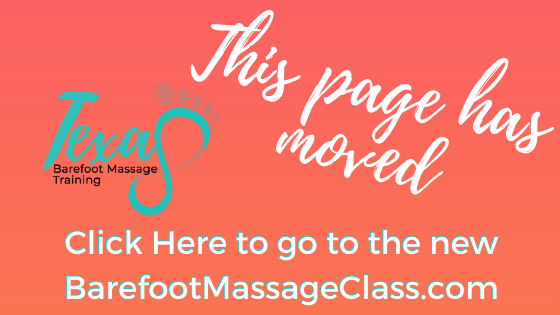 Revitalize & Converge Courses
Merging your ashiatsu training with FasciAshi techniques for barefoot massage therapists
How can existing ashiatsu therapists learn FasciAshi from the Center of Barefoot Massage without having to start all over? How can a FasciAshi therapist come back to class to pick up on some details they may have missed? Read on!
Option #1: take the Converge class. It's only available during 2018 – then it will be retired forever! Take this 1 day "down and dirty" quick class to teach you as many FasciAshi tricks as we can from the Fundamentals class to blend into whatever you already know. (Proof of attendance in another ashiatsu workshop is required first.) This is a fast-paced class to squeeze everything into your busy schedule! You'll just get to give and receive everything real quick once from another student. Due to time constraints there will not be a chance to work on an instructor or a client, and no chance to completely clean up your body mechanics, but at least you can plug in the new material to your sessions as soon as you get back to your own bars at work! This is meant for fast learners, and for those who are confident in their Ashiatsu techniques. You'll be provided with an abbreviated manual, protocol poster, limited access to online resources, and the ability to apply for FasciAshi Certfication. You'll get 8 CE's and it's $224.
Converge

[kuh n-vurj] verb (used without object), converged, converging.1. to tend to meet in a point or line; incline toward each other, as lines that are not parallel.

2. to tend to a common result, conclusion, etc.

Synonyms

Approach, focus, come together. Mingle, merge, combine.
Option #2: Revitalize your ashiatsu practice 1 day at a time in an existing FasciAshi class. Similar to the "refresher classes" that I used to offer, you can participate in any class on our schedule equivalent to one you have taken elsewhere (proof of prior ashiatsu training attendance is required first.) If you've taken Barefoot Basics, take Fundamentals. If you've taken Anterior/Sidelying, take the Intermediate: Supine/Sidebody. If you've taken Ashi-Thai, take ROM.  You'll be paired with another Revitalizing bodywork buddy so that you two can follow along, picking up what we throw down, having fun on the bars observing and participating in every stroke while it's being taught at the normal classroom pace. If time allows, the instructor will be able to come over to your table and give you some individualized attention, but please keep in mind that the instructor has to focus on the new, full-price-paying students who are in class for the 1st time. This is meant for therapists who need to review your body mechanics, as well as learn the new strokes. You will not be eligible for FasciAshi Certfication through this class, or be provided with any post-class resources (like a workbook, poster, online access.) $100/day email Jeni@BarefootMassageCenter.com to see when there's room for you!
Revitalize

[ree-vahyt-l-ahyz]verb (used with object), re·vi·tal·ized, re·vi·tal·iz·ing.

1. to give new life to.

2. to give new vitality or vigor to.

Synonyms

Restore, replenish, revive. Refresh, rejuvenate, resuscitate.
Option #3: take the whole course, you'll love it! You'll be surrounded by LMT's new to barefoot massage, you'll get to get back to your roots, ground yourself in cultivated content, and learn the new techniques with a beginners mind. In our full-length FasciAshi courses, you'll have the opportunity to give and receive daily with a massage partner, massage the instructor, feel every stroke from the instructor AND massage 2 clients on the last day of class… so you can expect lots of practice, a focus on details within the strokes, a complete recheck on your body mechanics, plus you will really experience and learn how to implement the theories of trigger point, myofascial release, and direction of pressure applied within your barefoot massage. You will be eligible for FasciAshi certification once that's ready, will receive a brand new full instruction manual, and will have a lifetime access to our Alumni Membership support website to further saturate your knowledge.