Ninja has been kickin' butt @ Heeling Sole
since December 2015!!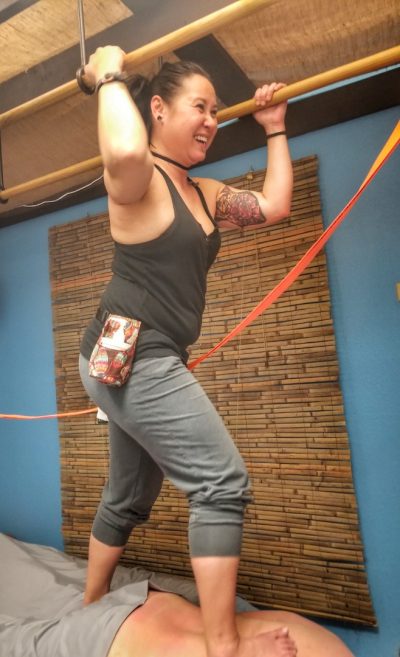 I first met Ninja in one of my Dallas ashiatsu classes waaaayyyy back in
November of 2010, she was a natural then and her skills have continually grown over a very impressive
9 year career in the field of Barefoot Massage, with 13 total years as a Massage Therapist!
Most massage therapists tap out at 4-7 years in this industry, I am so happy to see her beating the odds! She continued her barefoot education in all of my classes, plus she's trained with leading experts in Fijian, Shiatsu, Rossiter AND has been learning Thai massage with the rest of the Sasquatches this year:
I know you can feel her knowledge come through those feets during your sessions!
(That's why those toes of hers are so deadly accurate…
…they are the embodiment of pure knowledge and experience!)
Starting May 15th, Ninja's hourly rates are changing.
If you are already on her books for the month of May, that appointment will be grandfathered in.
If you are one of her regular clients who see her often – CHECK YOUR EMAIL! We sent you something.
Please note that Ninja will be listed in her own category on our online scheduling system – so please look for
"Massages with Ninja" section to find her appointments starting 5/1/2019.