Save 10-12% off your barefoot massage sessions in San Antonio at Heeling Sole with our discounted Massage Membership pricing.
Are you ready to commit to your HEELing? With our monthly membership plans, we'll autobill your account on a schedule, and you'll get your massage(s) each month for 3 months in a row at either 10 or 12% off, depending on which membership plan you choose!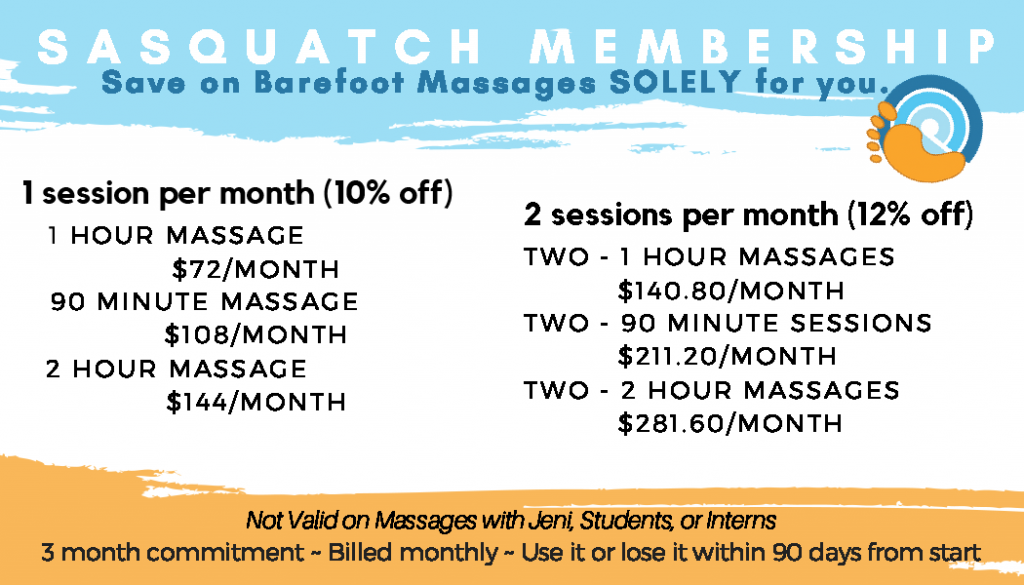 Each individual massage will be automatically billed to your credit card monthly until the plan expires (3 months from start date) Use each massage within a month of when the auto-pay pulls from your account – or at least by the end of the 3 month period.
If any massage session occurs prior to the scheduled auto-bill date, we will charge the transaction on the date of service, but not on the auto-bill date.
If you use the massages within your membership plan quicker than 3 months, great! Any services remaining unused at the end of the 3 month contract are forfeit, unless you renew with another package, in that case we can roll over the unused services into the next contract for your use. You will be automatically notified by the system with reminders when your contract is nearing it's end.
If you wish to cancel your membership prior to completing all the sessions, you will be retroactively charged the full price difference for past sessions discounted on this membership.
Cannot be shared with another person. Cannot be combined with other discounts/offers. Not valid for student or intern massages, or sessions with Jeni Spring. Read Heeling Sole's office policy's here.