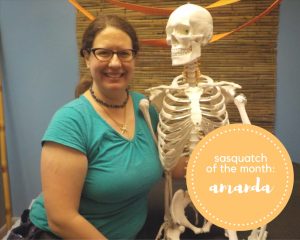 How long have you been a LMT?
~I started massage school in 2001 – I graduated and became a LMT in 2002.
How long have you practiced ashiatsu barefoot massage?
~I have been practicing ashiatsu since 2005.
What is your favorite muscle group to work on?
~I like to focus on whatever my client needs, but I especially like to work on the neck and back.
What do you enjoy most about your role as a LMT?
~I enjoy facilitating healing and helping relieve pain, restoring mobility, and assisting people to feel empowered in their well-being and stress management.
What brought you to barefoot massage?
~Early in my massage career, I read a magazine article about ashiatsu. I found it interesting and filed it in my mind for reference. As the demand for deep tissue massage became more and more prevalent, I remembered the article and knew ashiatsu was something I must learn to provide a much more effective deep tissue massage for my clients while also providing a more efficient and ergonomic modality that would prolong my career.
Amanda is a Sagittarius, a cat lady, and total Hufflepuff.