Because we are thankful for YOU, we've got a great gift card offer for our clients for this Heeling Holiday season. But first, we wanted to thank you SO MUCH for trusting our feet to calm the aches and pains in your muscles. We are looking forward to our 5th year in business at the Carousel Court, and our 12th year walking all over San Antonio. Every year the unique tissue issues you bring to our massage tables challenge us to massage with more accuracy, to learn and apply more advanced techniques, and to help heel our community through the work we love to do: Barefoot Massage!
Our Sasquatches are taking Thanksgiving and Black Friday off to eat Turkey – we'll be back, deeper than ever, on Small Business Saturday!
Thursday 11/23 Closed

Friday 11/24 Closed

Saturday 11/25 9:30a-3p

Sunday 11/26 9:30-3p

Monday 11/27 1p-6:30p
2017 Heeling Holidays Gift Card Offer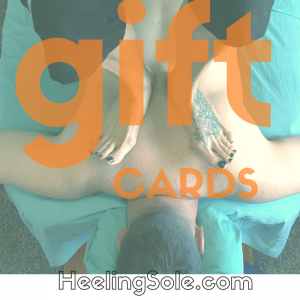 This year we have partnered up with a few of our favorite other locally owned businesses to bring you a great offer.
By supporting our little local business you are helping San Antonio's economy thrive, creating a vibrant community and more local jobs, (we're hiring, BTW!) you'll be supporting a women owned and operated business, plus you'll be helping us continue to establish Heeling Sole as the home base for the future of barefoot massage in the industry.  Heeling Sole hopes to help connect you to our network of local businesses through this unique $5 gift card offer. Use this bonus offer to try something new and meet our friends – shop small, support local, and spread the love!
For every $100 Heeling Sole gift card purchased, you'll get a free $5 to another local business!
The offer starts online tomorrow, Thanksgiving, Thursday 11/23, or in person at the studio on Small Business Saturday. We'll keep offering the $5 gift cards as long as we have them, so act fast to get this bonus! <<If YOU are a local business and want to get in on this offer,
email Jeni!
>>
Since our hourly service prices vary between therapists on staff, (ranging from $64 for interns, to $80/$90 fo Sasquatches, or $125 for Jeni) the gift cards available this year are for a dollar amount of your choice  –  rather than for a specific service. This will help avoid confusion when scheduling a massage. Don't forget that for every friend you send you'll get a $10 credit on your account for the referral! 
Purchase your Heeling Sole gift cards online* to print or email – or visit us during business hours.
*If you purchase your gift card online, you'll need to come into Heeling Sole in person to choose your $5 local biz gift card, first come first served – we have a limited supply of each.